Schools in New Zealand, Australia and Fiji are taking measures to address the spread of the coronavirus in the event that cases are detected near the pupils and people they are in contact with.
IMAGE: Coronavirus-map 2020
Major news reports have indicated that schools in Japan, the US, the UK and the Pacific are talking about measures to contain the spread of the coronavirus among children.
In fact, moves were made to shut down schools amid coronavirus detection.
IMAGE: MAIL ONLINE UK
The Nine News reported that two schools
have shut down in Australia due to confirmed cases of coronavirus among their students,
(
St Patrick's Marist College and Willoughby Girls School corona shut down, Nine News).
Coronavirus safety measures
There are certain prevention measures individuals can take to make it safe for themselves and others around them. This includes:
washing hands thoroughly - refer to the hand-washing technique below

keeping your distance from others - recommended 1 to 2 metres apart

avoid using publicly shared items like lime/kambang and especially money notes and coins - resort to using cards as much as possible at this time

limit attendance to public gatherings and public places where there is a large number of incoming and outgoing traffic such as airports and bus stops.
Above all, look out for each other, the elderly and children.
PNG Schools, communities and coronavirus watch
Remoteness and less outside contact is the best friend for PNG schools. In villages and outstations, the population have less contact with outsiders.
That makes it fairly safe.
But, many towns and cities have contact with travellers coming in from Port Moresby, Lae and other tourist hotspots in the country are among the risk group. And, they are likely to spread the virus to local communities and school children.
Having said that, the local communities need to have some kind of Community Watch for people who are travelling into the local villages and communities from the major centres.
There is no need for fear.
However, a concerted effort to contain the spread of coronavirus in villages and remote communities is urgent.
School and community hygiene and coronavirus

- important
Perhaps it is important to limit contact with others as a measure to prevent the spread of coronavirus if/when a case happens to surface in the country and in a local area.
Meanwhile, there are basic health and hygiene practices students can do to stay safe from coronavirus in schools. Among them is washing hands with soap whilst singing "Happy Birthday to Me'.
Wash you hands lyrics and infographics online
If you want to sing to your favourite song, check this brilliant website called WashYourHandsLyrics. Basically, you type the song title/singer name and the app puts the lyrics onto the NHS handwashing infographics.
Right now the Bohemian Rhapsody is popular. Check out these PNG Unity songs to create your own infographics and lyrics.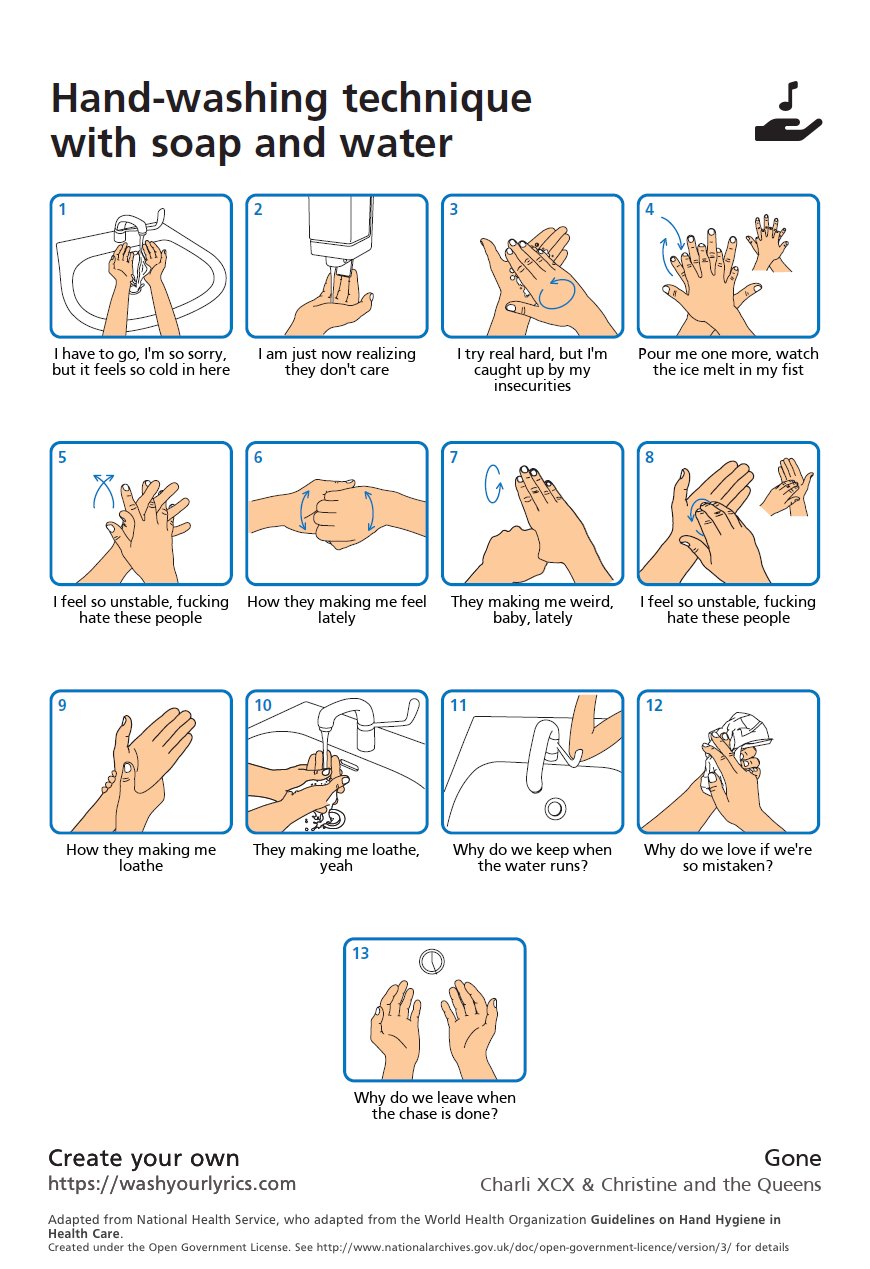 The high-risk group – kids and elderly
The coronavirus COVID-2019 related deaths recorded are among the elderly people and school (younger) children. This group needs attention.
The elderly and young children may not be the likely group to have had vast exposure to the public and hence exposed to coronavirus. But, they can be infected through a family member or others close to them who may have had exposure to coronavirus, COVID-2019.
Therefore, able-bodied people need to take preventative measures seriously to prevent any spread of the virus to their household.
Everyone needs to take care of each other.
School shutdown due to coronavirus - no need to panic
There is NO case of confirmed coronavirus in PNG. A FAKE online map showed a red mark on PNG map.
No need to believe it.
Unless the local PNG health authorities mentioned a case of coronavirus in PNG, there is absolutely no need to panic.
Schools are not shutting down in PNG. Students are going to schools and teachers are teaching. However, it is better to have contingency plans in place.
That means that the school Board and managers should have a 'list of things to do' if/when there is a corona-case detected nearby.
So, planning for school shutdown should be happening: what to do, how to keep learning going, and how long to shut the school.
Should PNG Schools be worried - yes
Surely. Any widespread infection is a course for public concern. PNG schools should definitely be worried, but not scared.
No need to rush to the shops and fight over toilet papers or shut schools down just because there is a case of cold flu in the school.
As mentioned, close schools and limit exposures to public gatherings IF there is a clear case of the viral coronavirus breakout in PNG.
But, schools must not close because of rumours and scaremongering.
Life must go on as normal.